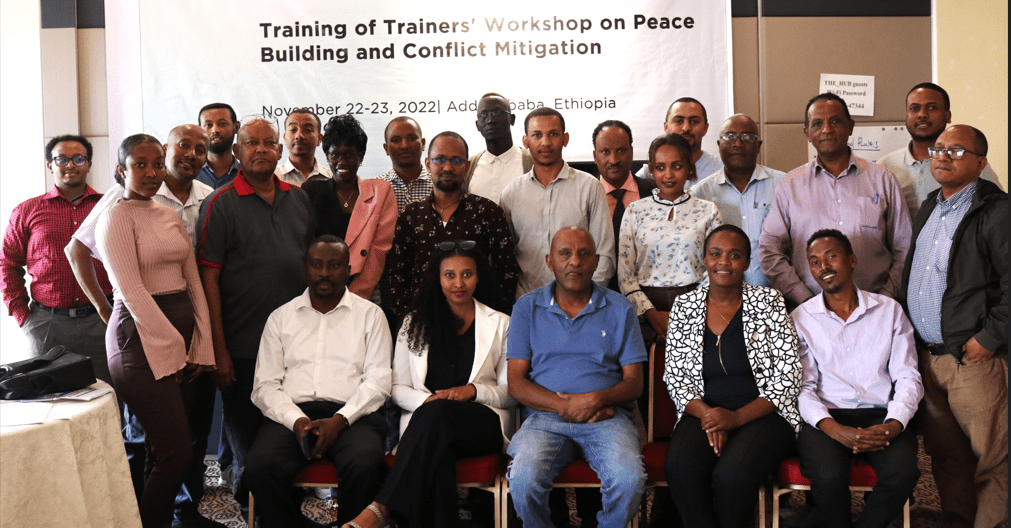 From the 23rd to the 30th of November 2022, the Coalition of Ethiopian Civil Society Organizations for Elections – CECOE conducted five different trainings on Peacebuilding and Conflict mitigation. The trainings were provided as part of CECOE's effort to augment the role of CSOs in Peacebuilding and Conflict mitigation. A total of 194 trainees drawn from different parts of Ethiopia participated in the trainings. Of the five trainings, the first Training of Trainers (ToT) was conducted in Addis Ababa on 22 -23 November 2022. This ToT was followed by four other trainings conducted in Dire Dawa and Hawassa on 25 and 26 November and in Bahirdar and Adama on November 28 and 29.
The training was designed to build the capacity of CECOE member organizations to contribute to peacebuilding and the national dialogue processes. In a bid to provide effective training, CECOE prepared and provided training modules and training manuals to the trainers. Similarly, the trainees were provided with well-developed reading materials and worked examples.
The training provided an opportunity for the participants to network with conflict experts, examine their roles in peacebuilding, and devise strategies for mitigating conflicts accurately, impartially, and responsibly.